Laptop video chip and VGA service

Does your laptop display has permanent horizontal or vertical lines?
Is your laptop display dead even when connected to an external monitor?
For this kind of faults, you must bring your laptop to our specialised laptop service workshop so you can get an accurate diagnosis and cost. Most laptop VGA faults can be repaired or as a worst case scenario, the graphics chip can be replaced.
For a quick test, you can do the following: Connect your laptop to an external monitor and turn on your machine. If the problem occurs even to the external monitor, then your graphics chip is in a faulty condition and needs repairs or replacement. If the problem does not occur to the external monitor then you may experience a problem with the laptop screen or even with the laptop inverter or the laptop backlight.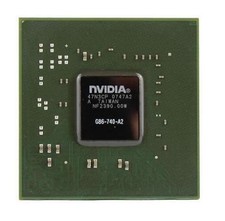 If when you turn on the laptop you see the manufacturer's logo (for example Acer, Sony Vaio, Toshiba, Dell, HP, IBM etc) but there are some horizontal or vertical lines displayed then the most common case is to have a problem with the laptop graphic chip.
Check the picture on the left to see an example on how a faulty laptop VGA adaptor signal is displayed when you turn on the laptop. The lines may be green, red or yellow in most cases.
Can we repair a faulty laptop VGA chip?
Yes we can, its one of the most difficult tasks to accomplish, as the circuits are very tight and integrated on the motherboard, that sometimes it is very difficult to repair. Our laptop service has a good repair rate of 80% of the laptop VGA chip repairs.
Attention! We use our special tools and experience to repair your faulty graphics adaptor but in some cases cannot be repaired due to extensive damage on the board or the chip. In such cases, we cannot guarantee that after the repair your laptop will leave in working condition. Your laptop's working condition may be worse than its initial condition. This is the risk of repairing electronic circuits that are not meant to be repaired when manufactured.
When the laptop comes to our service the laptop expert will do the following :
Dismental the laptop to reach the graphics adaptor chip
Check the voltage and current of the VGA chip connectors
Attempt to repair the faulty circuits with re-balling technique
On completion, we will keep the laptop for 2-3 days under testing to stress test it under heavy conditions for 2-3 days to check that we have a stable repair.
What is the cost of laptop VGA chip repair?
The cost varies and depends on the fault or the VGA chip we need to replace. You may check with us for cost estimation of common laptop problems. If you are outside London UK and you want to send us your laptop, then please see the packaging instructions.